Determining Your Size
Most products will have a "Chart" button next to them to show manufacturer specific sizing. This page shows the general rules of thumb for converting shoe and clothing sizes.

Shoe Sizes
All our shoes are in US Women's Sizes, unless the size selection pulldown says "Mens Size". US Men's Sizes are 2 sizes bigger than US Women's Sizes. For example, a US Men's size 6 is a US Women's size 8. Please use the following chart to convert your shoe size from your local measurements to our US measurements.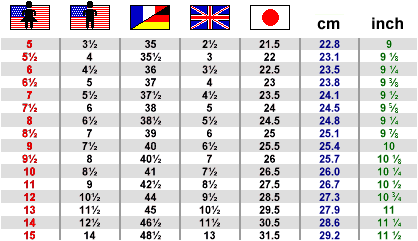 Heel and Platform Sizes
Heels are measured from the very back top of the heel, not the inside.





Lingerie and Leather Items
Please use this chart to determine your clothing size: